To focus on the development of research with Taiwan characteristics and potentiality for international cooperation, the Ministry of Science and Technology (MOST) has promoted "Taiwan Brain Technology Development and International Raising Program". This program aims to develop innovative research and key technologies research in brain and neuroscience, to drive the development of precision medicine and related industries. In the past few years, a solid foundation and strong research energy for brain science have been established in Taiwan. With the support of the MOST program, the research team leading by Prof. Shuu-Jiun Wang of National Yang Ming Chiao Tung University has been focusing their works on headache and pain. A series of clinical studies are completed in close cooperation between the Brain Research Center, National Yang Ming Chiao Tung University and the Neurological Institute, Taipei Veterans General Hospital.

The World Health Organization ranks migraine as one of the top 10 chronic diseases. According to the latest Global Burden of Disease Study, migraine has been the second leading cause of disability in the past three decades. Among population aged between 15 to 49 years old, migraine is the number one cause of disability. According to the diagnostic criteria of The International Classification of Headache Disorders (ICHD-3) published by the International Headache Society, migraine is recurrent headache disorder manifesting in attacks lasting 4-72 hours. Typical characteristics of the headache are unilateral location, pulsating quality, moderate or severe intensity, aggravation by routine physical activity and association with nausea, vomiting, sensitive to light and sound. According to a survey by the VGH-YM Headache Research Team, there are as many as 2 million people in Taiwan suffering from migraine, of which female patients are three times as many as male patients. Based on an online migraine questionnaire conducted by the Taiwan Headache Society in July 2021, it was found that nearly half of the respondents did not know that excessive use of painkillers may worsen headaches, and only about one-third of them knew that migraine headaches can be treated with prophylactics.

Migraine can seriously affect patients' lives, and preventive treatment can reduce the frequency and severity of headaches. According to the clinical guidelines published by the International Headache Society, preventive treatment should be considered when there are more than four headache attacks per month. In addition, those with special forms of migraine attacks, migraine attacks that seriously affect daily life, failure of acute treatments, contraindications of acute treatments, excessive use of pain killers (more than 10 days per month), also need to consider preventive treatment. However, about 40% of patients reveal limited treatment response, and moreover, it is still difficult to predict who will benefit.

With the support of the Ministry of Science and Technology, the VGH-YM Headache Research Team collected a large number of clinical data on migraine patients, including headache profiles, sociopsychological information, and physiological measurements such as electroencephalograms (EEG), to explore the predictability of EEG in treatment response among patients with migraine. They found that patients with chronic migraine who did not show abnormal augmentation of alpha waves in the visual area were around eight times more likely to have significant improvement, namely more than 50% reduction in headache frequency, after treatment. In other words, an EEG assessment for migraine patients prior to preventive treatment can be used to predict who will response to the preventive treatment. The results of this study have been accepted in Pain, an authoritative journal in the International Association for the Study of Pain (IASP), on October 13, 2021. This predictive model can assist physicians in prescribing precise and personalized migraine treatment. In the future, wearable wireless EEG cap are expected to be used for rapid evaluation in outpatient settings.
Article Information:
Pan, Li-Ling Hope; Chen, Wei-Ta; Wang, Yen-Feng; Chen, Shih-Pinc; Lai, Kuan-Lin; Liu, Hung-Yu; Hsiao, Fu-Jung*; Wang, Shuu-Jiun* Resting-state occipital alpha power is associated with treatment outcome in patients with chronic migraine, PAIN: October 13, 2021 doi: 10.1097/j.pain.0000000000002516
Full-text available at: https://journals.lww.com/pain/abstract/9000/resting_state_occipital_alpha_power_is_associated.97859.aspx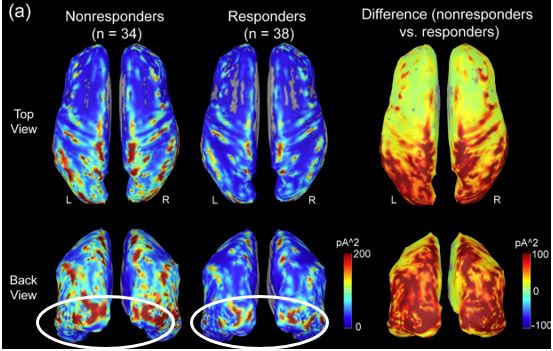 Nonresponders showed significantly augmented alpha intensity over occipital area (circled) compared to responders.