SPARK TAIWAN Program is a collaboration with Stanford University, the cradle of biotechnology industry development in the United States, to link the Stanford SPARK Program training model and resources. Through regional anchor universities with biomedical interpretation capabilities, this program builds a biomedical talent training environment that meets the local needs of Taiwan. In addition to providing key training courses in translational R&D, clinical-need assessment, medical regulation issues, intellectual property and negotiation, marketing, and commercialization planning along the product value chain, the program is complemented by an industry expert panel with practical experience in the biotechnology field, and the development of each anchor university's unique translational training model.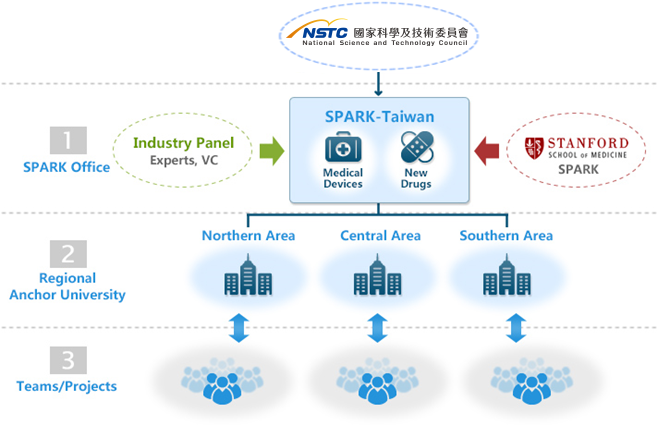 SPARK Office
•
In collaboration with Stanford University, the training material is introduced to the selected teams and as part of the training the teams are expected to exchange experiences gained during the commercialization process
•
Anchor university selection
•
Form an industry expert panel
•
Regular milestone based review on project progress.
Regional Anchor University
•
Provide selected teams matching fund as part of "Translation and Promotion Project for Innovation and Exploration".
•
Assist SPARK office in members training and team selection, invitation, assess, manage, and promote training course.
•
Provide training faculties, facilities, equipment, and support for the members and teams under training. Make available core facilities to allow teams' access to equipment, help in IP application, market strategy, and clinical study/trial assistance.
•
Integrate internal and external resources of the university, assist the selected teams by adding value to their R&D results, and promote economic development of biomedical related industries in surrounding area.
SPARKee
•
People who have an original concept or are interested in product development are qualified as potential candidates for selection.
•
Must complete the training program including the periodic training course, attend expert lectures, and attend regular meetings, etc.
•
Team must fulfill milestones set by the managing organizers to enter into the next round of financial assistance assessments.